The positive, bright, and enlightened spirituality of Nichiren Buddhism is revealed through the many rituals and ceremonies offered at temples. These ceremonies have been passed down for hundreds of years to each generation. Channeling the wisdom and merits of the Eternal Buddha, Nichiren Shonin and our ancestors, they connect us with the life-giving force of the Lotus Sutra (Namu Myoho Renge Kyo). The different Buddhist ceremonies are used to connect us with enlightenment of the Eternal Buddha revealed in the Lotus Sutra, bringing this positive light into every aspect of our lives, providing protection and encouragement.
Ceremonies
There are many Buddhist ceremonies that the minister of the Enkyoji can perform for you. These include:
Click on the link for each type of ceremony to see a more detailed explanation.
Ofuda and Omamori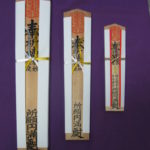 An Ofuda is a talisman issued by Buddhist temple. There are many different kinds available depending on the wish or situation. It is made by inscribing the name of a Buddha, Bodhisattva, or protector of Buddhist practitioners on a strip of paper, wood, cloth, or metal.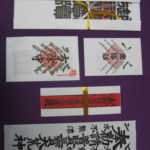 It is to be changed for a new one yearly, typically before the end of the year ceremony held on New Years evening. When it is received the minister will advise as to how it is to be used or displayed by attaching it to a door, pillar, or ceiling. It may also be placed in a wallet, purse, or even worn on the body. More specific ofuda are to be placed at specific points in the house or near particular objects such as one for kitchen to protect from accidental fire.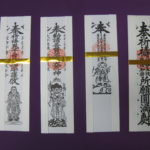 A portable form of ofuda, commonly called omamori, is given to the practicioner with the prayer or sacred object placed in a small bag made of decorated cloth. The main differences between the two are that the Ofuda is to offer protection to the whole family or house, an omamori on the other hand offers support for personal benefits and prayers.
There are many different kinds of ofuda and omamori available at the Seattle Temple. Please contact Rev Cederman or visit us.
Spiritual Counseling
Spiritual counseling is available in dealing with any life difficulty, decisions, or sickness. This can offer you insight into a problem or difficulty and help with its resolution using methods from Buddhist traditions. We should bring into harmony the physical and spiritual in our lives. Of course all information shared is confidential.
Other Ceremonies
There are also a number of ceremonies that are performed away from the temple. These include ground breaking for buildings, ridge pole ceremony for building a house, building completion ceremony, opening a new business, prosperity ceremonies for business, dispelling misfortune and negative energies from places and people, and ceremonies for homes and families.